Caldan Conveyor became part of the group in 2020
When the timing is right
– "It will be an advantage to be part of the group, as we can utilise their presence and experience worldwide"
Caldan Conveyor is a manufacturer and supplier of overhead and floor conveyor systems for automated surface treatment. In the last 30 years, the Danish company has designed, manufactured and installed more than 5,000 transport systems all over the world. The business is managed by the brothers Jens and Niels Calundan. After three decades in the industry they are still very involved in the customer-based R&D that is vital to the company's success.
"We've always liked the challenge of developing new and specific solutions for our customers," says Niels. The components may be standard, but no conveyor system is alike, and they are especially proud of completing projects that really put the company to the test.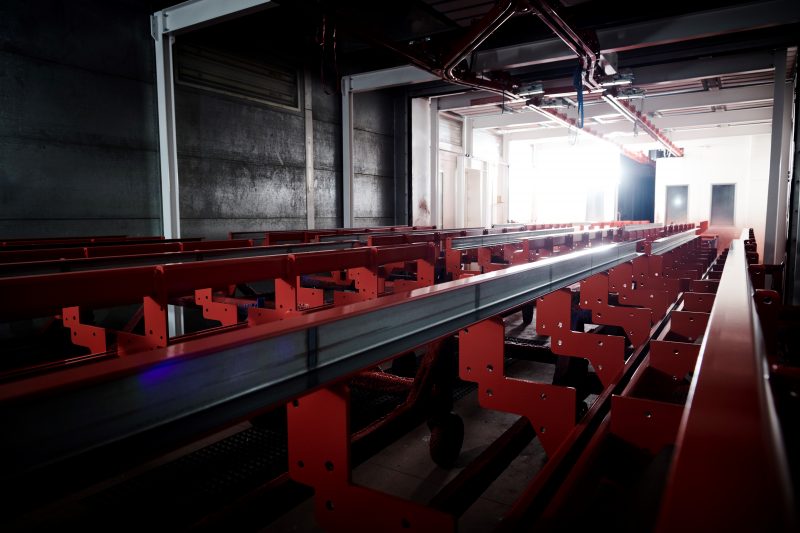 Caldan started in Aarhus, Denmark, when the brothers took over a small conveyor system business from their father. At the time, Caldan consisted of eight employees and offered only one single type of monorail system. Now, 30 years later, the company has its own R&D department and nearly 130 employees, most of them working at Caldan's headquarters in Aarhus. The company has an average annual growth rate of ten percent.
"That makes one thing crystal clear – we've never been forced to find a partner. We've been contacted many times over the years, mainly by private equity investors, but we would never partner with a company that comes with an exit strategy. That would kill the company spirit," Niels says. However, the proposal from Axel Johnson International got their attention.
Axel Johnson International was a different story. When they presented their long-term perspective, we saw that this was exactly the type of partner we wanted
"The decisive factor was the nature of the offer, with us staying on, the knowledge that Axel Johnson International invests for the long-term and the way they develop companies. It wasn't our machines they bought but our employees and our knowledge, meaning that the production remains in Aarhus. This was very important to us," says Niels.
The timing was also right. Both Jens and Niels have children that have shown some interest in being involved in the business in the future, but not yet. "With Axel Johnson International as a long-term partner and owner, our children will have the opportunity to remain involved in the business also in the future if they would like to," says Jens.
The acquisition process started in 2019 and the agreement was finalised in September 2020. "I think that was the most critical announcement we've ever made to our employees. It was very emotional," says Niels. The partnership will provide significant opportunities for all Caldan Conveyor's employees to continue to learn and develop. Axel Johnson International's business school and the group's talent and management programmes are all open to them.
"We expect to retain a lot of independence but being part of the group will hopefully attract new talent that previously may have seen Caldan as too small," says Jens.
At present, Caldan has operations in Denmark, Germany, UK, China and India, and the aim is to continue entering new markets.
"It will be an advantage to be part of the group, as we can utilise their presence and experience worldwide, helping us grow into a leading global supplier of conveyor systems for automated surface treatment," says Niels. He and his brother Jens look forward to the new ventures the partnership will bring.