A head of the curve. Remote monitoring tool boosts logging efficiency
When Swedish-based Elforest began developing the world's first hybrid electric forwarders for the forestry industry in 2006, the market was not ready. However, being ahead of the curve has its advantages.
In 2014, soon after the hybrid power boom began, Elforest started getting calls from other machine manufacturers, seeking its help on a consultancy basis to integrate its proven technology into their machines to make them more sustainable. A new business opportunity presented itself. But as Managing Director Gabriel Söderholm explains, one innovation in particular has driven the success of the newest Elforest version.
"Back when we were a machine manufacturer we needed to monitor the prototype machines on a 24/7 basis. Since we couldn't have technicians there all the time, we developed a condition monitoring unit called Elforest Logger. This allowed us to remotely monitor the performance and gave us access to the user data. It could send us updates directly to our HQ without us having to travel to the forest where the machine was, so we could diagnose issues off-site."
As we shifted to consultancy we pretty much insisted that we needed to mount our Elforest Logger device on manufacturers' machines, so we could get a deeper understanding of how each machine was running and provide them with the right specification."
This smart approach made the Elforest Logger a pre-eminent condition monitoring unit in the forestry industry and it is also ideal for other heavy machinery applications. Its design is similar to an outsized computer hard drive, and works by connecting to the vehicle's Controller Area Network (CAN) bus, the data transmission cable. The unit 'listens' to the CAN bus and records every message sent on it.
The resulting data is stored in the cloud or, if there are business sensitivities, on the customer's own server. Elforest then uses its own data analysis tool to identify the way the machine is being used to a degree of accuracy that was previously beyond manufacturers. This solution turns out to be efficient and saves time as well as money for the customers.
Gabriel Söderholm and his colleagues Fredrik Lorenc and Andreas Lundström made a buy-out from the previous owners of Elforest in 2016. In 2019 the company identified synergies with Trans-Auto, a company that is part of Driveline Solutions, and it was a natural progression for Axel Johnson International to buy into Elforest in early 2020.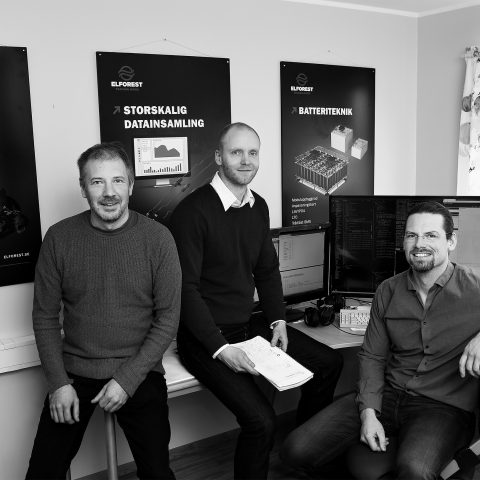 "It's a win-win situation for all of us," Gabriel says. "Being part of the group, we've been granted access to a network of suppliers and customers that we'd never been able to reach before. Business is good, and we have a mutual view of the future. It was absolutely the right decision for Elforest."