Meet our trainees of 2021/2022
In 2021, we welcomed four management trainees: Ellen Wallin, Oscar Thornander, Hilda Molin and Helen Mirza. We asked them a few questions about what motivates them and how they found their first year with us.
What attracted you to the role as Management Trainee at Axel Johnson International?
"For me, it was the opportunity to combine working with sustainability within the industry, and also the flexibility of not having a fixed role at once and the opportunity to try different things," says Hilda.
"The possibility for development and to get an understanding of every part of doing business. I also appreciate that Axel Johnson International's strong values influence how the companies in the group do business," says Oscar. Ellen continues: "The opportunities to learn and develop within the company were of great value to me, and to work in an entrepreneurial company culture."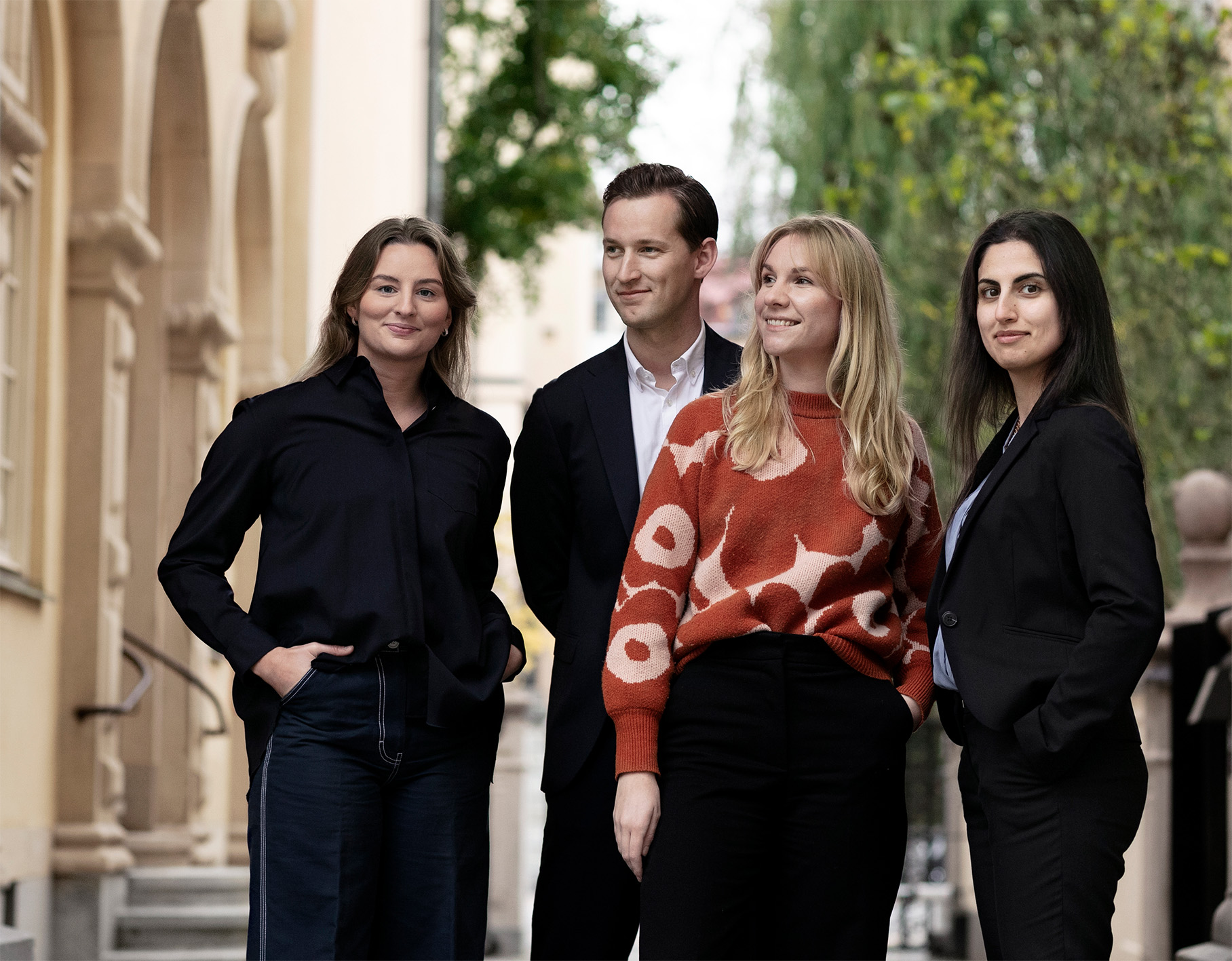 From left, Ellen Wallin, part of Group Sustainability team. Oscar Thornander, part of Transport Solutions (M&A and digitalisation).
Hilda Molin, part of AxFlow (Sustainability). Helen Mirza, part of Group Strategy & M&A team
What is the most exciting and motivational part of working in this group?
"The industry is undergoing a historic transformation, full of challenges and opportunities. This role gives me a unique insight into how different parts of the industry are adapting to the change," says Helen.
"It's important that what I do really matters." "The connection to purpose. I enjoy working with sustainability where I can make the most impact. I appreciate the opportunity to learn more about the challenges and possibilities specific to the industry," adds Ellen. Hilda continues: "There is a concreteness to everything. Real problems are being solved every day by every company in our group."
What has been the best part of your trainee year so far?
"To take on such a variety of projects, from M&A and strategy to projects in areas such as digitalisation and sustainability that have potential to benefit a wide range of companies in the group and ultimately their market niches," says Oscar.
"For me it has been important to contribute and to learn. Being part of a group where all decisions are made on a long-term basis is also great," says Helen.   "It's great to be part of a trainee group where we can share our experiences. Hopefully, my broad range of tasks and responsibilities will give me useful insights as well as a good foundation for whatever role comes after my trainee year,"  ends Hilda.