OCS helped vertical farm to ramp up production
Swedish automation company OCS Overhead Conveyor System AB is a specialist provider focusing on the automotive, aerospace, bicycle and surface treatment industries. The friction-based patented technology for hanging conveyors enables flexible, clean, ergonomic and quiet solutions for modern enterprises. Ljusgårda, a Swedish indoor farm, has an ambition to make Sweden less dependent on imports of vegetables by large-scale vertical farming. That's also what made them approach OCS. They wanted to grow their 650-square-metre production area more than 10 times and automate their manual operations.
This is a new and growing market with great potential. We are keen to use our expertise and know-how in conveyor systems to be part of this sustainable transformation
OCS's unique overhead conveyor system enables transport between the planting area, the cultivation room, the harvesting station and the washing facilities. Ventilation, lighting, watering and nutrient feeding are integrated into the conveyor system, adding to the uniqueness.
"It's a technical solution that required some extra development work from our side to achieve what actually is a very simple, smart and cost-effective solution," says Christer Lundgren, Sales Director at OCS. "For us it marks a successful step into a new market segment, and it truly shows the extent of our customer offering."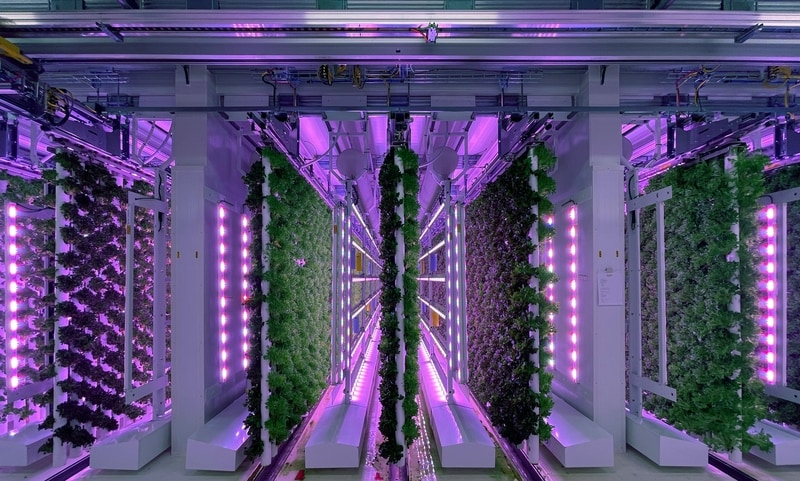 Assures high-hygiene environment
‍To meet Ljusgårda's demands, OCS designed an overhead automation system with nearly 700 cultivation trolleys. The trolleys use OCS's unique friction-free technology that doesn't need any lubrication oil. The system assures a high-hygiene environment for food production.
To ensure a high-quality endproduct, a cultivation trolley can easily be requested at any time for checks from a desired position in the cultivation chamber. That equals 600 pallets of lettuce being distributed to more than 800 stores around Sweden every week.
"From our point of view, it is an interesting business case where we are very pleased to be able to help our customer with our patented technology to realise their vision for sustainable food production," says Christer.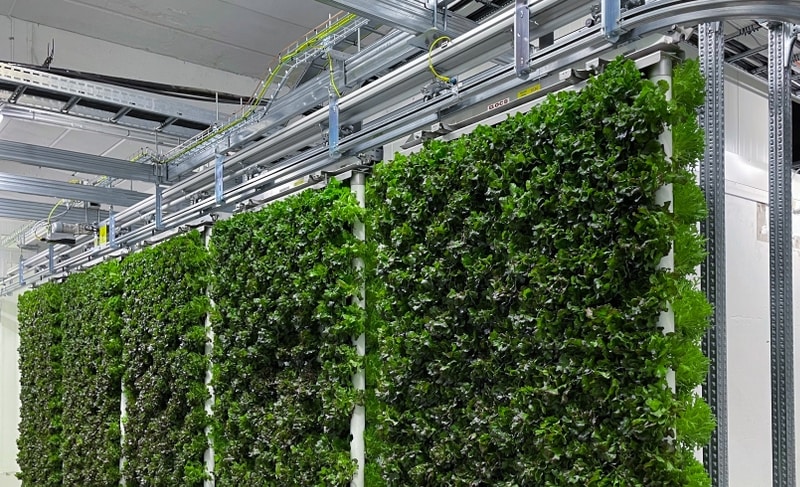 An application with benefits
The fully automated process has helped Ljusgårda increase their harvest from two tonnes of lettuce per month to 60. The new application comes with additional benefits; the overhead conveyor solution optimises the floor space which for Ljusgårda means that the transport and handling of the cultivation pipes is minimised, and the system for automatic transport for harvest has become simpler and more efficient.
The growing global trend for locally produced food has generated an increasing interest in indoor farming. Automated systems contributes to making the process efficient and sustainable.
"This is a new and growing market with great potential," says Christer. "We are keen to use our expertise and know-how in conveyor systems to be part of this sustainable transformation. It's a very positive development that goes hand in hand with OCS's core values: 'lean, clean and green'."
Industrial automation company OCS
Swedish company OCS Overhead Conveyor System is part of Axel Johnson International's business group Industrial Automation. OCS has a unique friction-based, oil free solution. They recently helped vertical farming company Ljusgårda to ramp up production.